Periodontics FOR 4 DAYS
Day 1:-
• Basics about PERIODONTOLOGY
– Anatomy
– Normal Periodontium vs. Pathology
– Classification & It's clinical implications
• Classification of periodontal diseases & conditions
– Gingival and periodontal diseases
– Periodontal microbiology
– Microbial interactions with the host in periodontal diseases
– Pathogenesis of plaque associated periodontal diseases
– Dental calculus – Role of iatrogenic and other local factors
– Genetic factors associated with periodontal diseases
– Influence of systemic diseases of the periodontium
– Occlusion and periodontal diseases
– Smoking and tobacco in the etiology of periodontal diseases
– AIDS and periodontium
• DIAGNOSIS & TREATMENT PLANNING
• NON-SURGICAL PERIODONTICS
– Ultrasonic Scaling
– Root Planning
– Curettage
Day 2:-
• SURGICAL PERIODONTICS
– Objectives
– Regenerative vs. Resective procedures for Periodontal defects.
– Gingival Recession Coverage & Stability
– Diagnosis & Treatment of Chronic Periodontal Abscess
– Gingivectomy & Gingivoplasty.
– Gingival Recontouring
– Osseous resection
– Osteoplasty
– Ostectomy
– GTR (guided tissue regeneration)
• INCISIONS & VARIOUS FLAP DESIGNS
– RATIONALE & Principles
– Practical aspects
– Full & Partial thickness flap – which one to use? Case Selection?
• Minor Surgical Periodontal Procedures
– SPLINTING
– VESTIBULOPLASTY
– FRENECTOMY
– OPERCULECTOMY.
• Suturing techniques
– Choosing the correct one
• Bone Graft – Why so important?
– Selection
– Placement techniques
– Allograft & Alloplast
– Grafting techniques
– Materials
– Critical evaluation of biomaterials used in regenerative periodontal surgery
– Technique
• Interdisciplinary Periodontics
– PERIO-ENDO
– PERIO-PROSTHO
– PERIO-RESTORATIVE
– PERIO-AESTHETIC ASPECTS
 Crown Lengthening
 Gingival depigmentation (Gum Bleaching)
Day 3:-
• PERIODONTAL MEDICINE, CHEMICAL PLAQUE CONTROL
• Periodontal Diseases
– Pocket formation
– Furcation involvement – how to assess and treat?
– Gingival recession coverage- with or without GTR
• The Modified Coronally Advanced Tunnel (MCAT)
• Laterally Moved Double Tunnel (LMDT) for the treatment of single and multiple gingival recessions
• Crown lengthening procedures in esthetic regions
• Gingival recession and treatment.
• Barrier Membranes
• Splinting ( Temporary and Permanent)
• Detection of Trauma of Occlusion,Its correction
Day 4
• Periodontal Surgical Armamentarium & Instrumentation
– Periodontal probes – WILLIAM AND UNC-15
– NABER'S furcation probe
– BARD PARKER HANDLE-Flat,round,contrangled
– BLADES NO. 11,12,15
– PERIOSTEAL ELEVATORS – P24 & PBQ6
– GRACEY CURETTES- Set of 1 TO 14
– UNIVERSAL CURETTE – 2R/2L & 4R/4L
– UNIVERSAL SCALER-SU 15/30 HU-FREDY
– Anterior scaler & Posterior scaler
– Pocket marker set ( KAPLAN)
– Tissue plier holder – STRAIGHT & EYED
– CASTROVIEJO & GOLDMANFOX SCISSORS
– Artery forceps – Small & Medium
• SUTURE(ETHICON) 3-0 , 4-0
• COE-PACK
– Its use & applications
• ORAL IMPLANTOLOGY
– Treatment of soft tissue defects at implants
– Treatment of peri-implant infections
Live Interactive Surgical Demonstration of:
 Modified Widman Flap.
 Kirkland Flap operation
 Bone Grafting
• Demonstration & Hands on- Incision Designs & Flap Elevation & Suturing
Clinically students will get to learn:
• Principles of soft tissue grafting (techniques used).
• Management of complications following regenerative and plastic-esthetic periodontal surgery
• Presentation of long-term results following regenerative, plastic-esthetic periodontal surgery.
• Mucogingival surgery
• Live-surgeries demonstrating techniques for periodontal regeneration and coverage of single and multiple
maxillary and mandibular recessions.
• Surgical crown lengthening.
• Lasers in peridodontics
• Papilla reconstructive techniques.
• Ridge augmentation and guided bone regeneration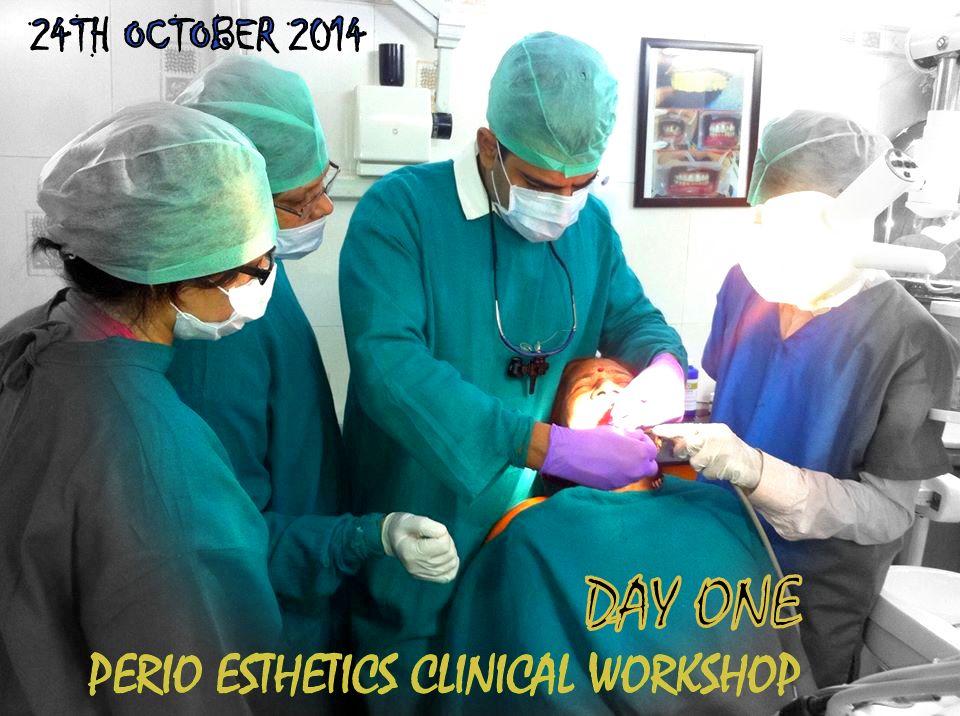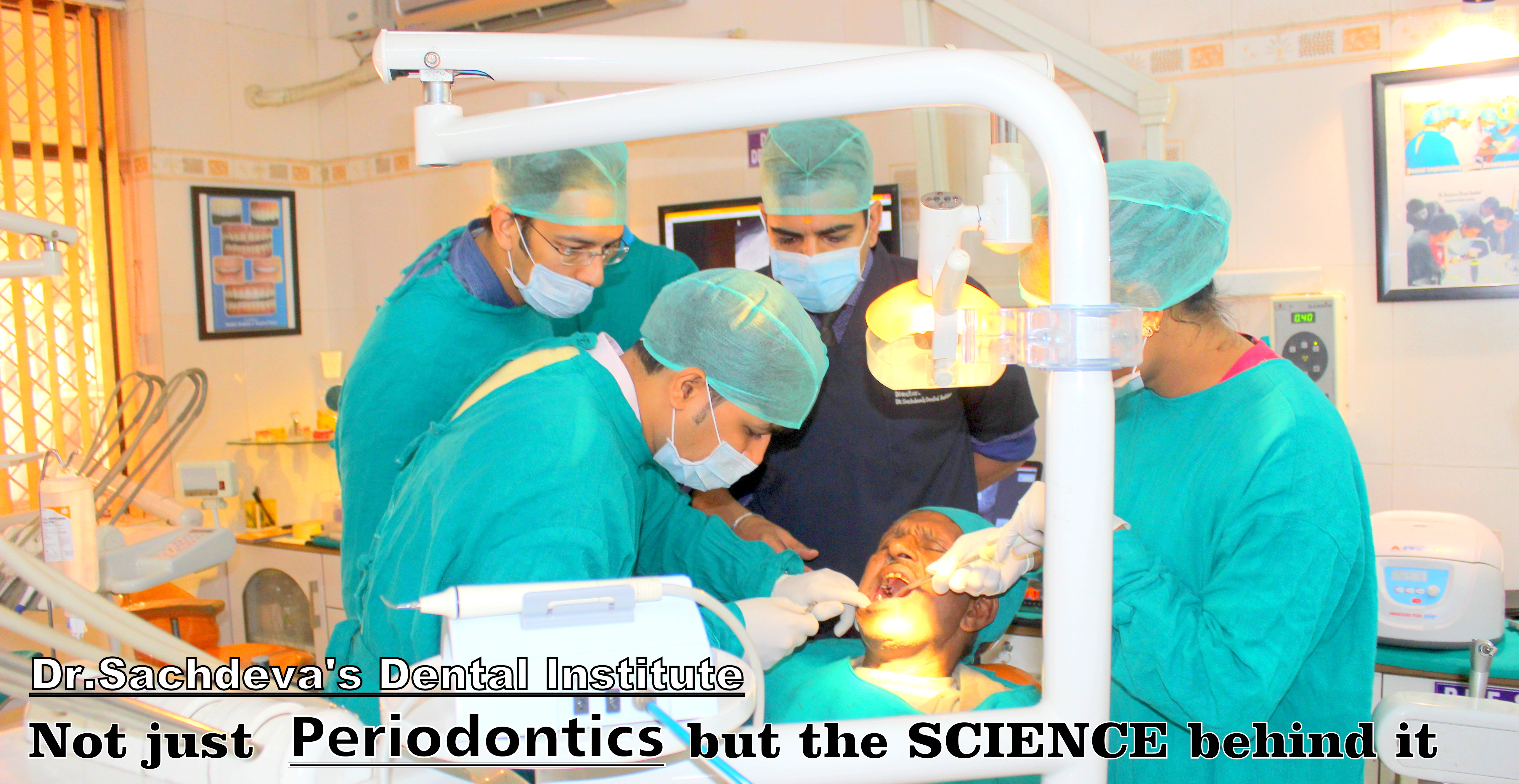 See More Images