Six months Certification Course in Fixed Orthodontics
2 days per month 6 modules
5 Patients to each participant
Module-1
1. Introduction -history of orthodontics ,types of appliances-removable & fixed .
2.Clinical examination-extraoral, intra oral ,functional.
3.Etiology of malocclusion and classifications of malocclusion-dental,skeletal.
Hands on-1 bonding, banding exercises on typhodont &1st patient case
Module-2
4.Growth and development – maxilla & mandible, adolascent growth spurt detection.
5.Model analysis,X-rays,OPG,cephalometry,discussion on study models
6.Digital dental photography and data processing techniques.
Hands on-2 wire bending exercises,fabrication of removable appliances,welding and soldering. Bonding, banding exercises on 2nd patient case
Module-3
7.Treatment planning-space analysis ,extraction & non extraction phylosophy- extraction choice ,which teeth and why non extraction meathods- distalization,uprighting,derotion,expansion,stripping,serial extraction etc.
8.Biomechanics -of tooth movement- .
9. Armamentarium required – consumable, nonconsumables.
Hands on-3 model analysis ,bonding, banding and wiring in 3rd patient cases.
Module-4
10.Wires –types,properties,metlurgy.
11.Anchorage -controle,types
12.Leveling and aligning in fixed orthodontics.
13.Functional appliances and clinical application. Hands on-4 wire changing & wire selection
Module-5
14. Straight wire techinque-(MBT)-introduction ,phylosophy,history,mechanics,anchorage controle,materials,stages-I,II,bonding ,banding, wiring,welding,soldering,wire sequence and selection,
15.Overbite controle,overjet reduction,space closure, finishing ,detailing,debondig,patient care,
16.Case discussion of all types cl–l,ll,lll,case discussion of all types on models ,photographes,casts.
Hands on-5 wire changing ,patient case discussions ,twin block,bite planes fabrication and delivery in 4th patient.
Module-6
17.Concept of tip edge,Beggs,selfligating,lingual and clear orthodontics
18.Surgical orthodontics,retention and relapse.
19.Interceptive, preventive and adult orthodontics.
20.pre prosthetic orthodontics,perio ortho conciderationsHands on-6 debonding and retention (fixed lingual) exercises in 5th patient.
ONE YEAR FELLOWSHIP IN CLINICAL ORTHODONTICS
THE COURSES ARE DESIGNED TO EQUIP THE TRAINEE WITH SKILL AND KNOWLEDGE AND ON THEIR COMPLETION TO BE ABLE TO PRACTICE SOME LEVEL OF BASIC ORTHODONTICS AND HAVE THE ABILITY TO INTELLIGENTLY PURSUE FURTHER APPRENTICESHIP TOWARDS ADVANCED ORTHODONTICS.
12 modules of lectures, demo, hands on Typodonts and patient work spread over 12 months held on one weekend of every month (two days every month on Saturday & Sunday for a year)
10 Patient will be provided to each participant for orthodontic training
Designed for the busy practitioner who wishes to add orthodontic patient care to the existent dental services in the clinic.
The candidate is encouraged to start Orthodontic cases in the practice and take our help in it's progress.
Students are introduced to a variety of treatment philosophies, with an emphasis on pre-adjusted appliances and related techniques. Supervising clinical faculty present their philosophies in daily diagnosis and treatment planning seminars. A variety of clinical techniques are demonstrated and utilized in the school's state-of-the-art orthodontic clinical facility.
Academic requirements for the 12-month Orthodontic fellowship program are as follows:
· Successful completion of the mandatory course work.
· Satisfactory treatment of the assigned patients under supervision.
· Acceptable performances on comprehensive didactic and clinical examinations.
· Completion of the research component of the program.
MISSION STATEMENT :
Dr.Sachdeva's Dental Institute is committed to providing every dental graduate an opportunity to demistify and participate in orthodontic patient care.
To encourage every dental practitioner to learn the orthodontic procedures and approach an orthodontic patient with confidence and participate in orthodontic patient care with authority.
DURATION
Conducted over 12 modules Of 2 Days Each with 24 sessions
COURSE HIGHLIGHTS ;
Introduction to fixed orthodontics
Instrumentation and Armamentarium.
Diagnosis and Treatment plan.
Cephalometrics tracing Practice.
Biomechanics.
Growth And Development.
Model Analysis Practice on different casts.
Removable Appliances
Welding Exercises.
Principles of fixed orthodontics
Banding Technique & exercises
Bonding Technique & exercises
Arch Wire Bending Exercises.
Making of Wire of Separators
Wire Separators and elastic separators placing Exercises on Models.& patients
Practicing of different Arch wire Placement
Permanent Anchorage Preparation with SS Wire Making Exercises
Habit Breaking Appliances fabrication
Soldering technique
Retention appliance Making Exercises
Expansion appliances
Applications of auxiliaries such as..
Elastics, E-Chain, open coil springs, closed coil springs, Elastic Modules,Ligature tying
Case discussions, dealing with complicated cases,
Surgical orthodontics.
Recent Advancements in Orthodontics.
We Provide all instruments and Materials required for training ,Certificates , CD's , orthodontic seminars and study material .
post assistance for the cases will be provided for 1 year
PLEASE CONTACT US BY E MAIL : drrajatsachdeva@gmail.com OR (M) +919818894041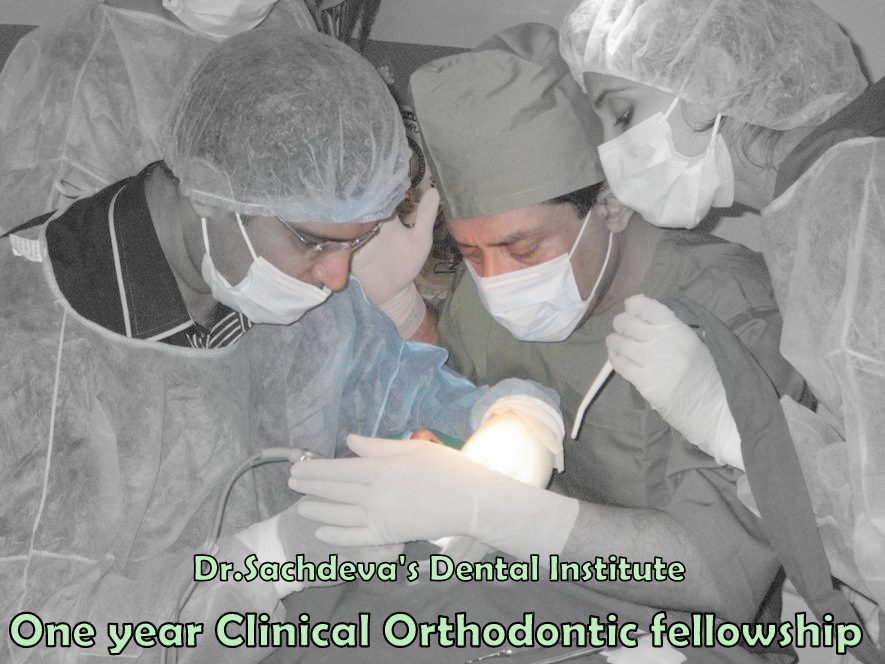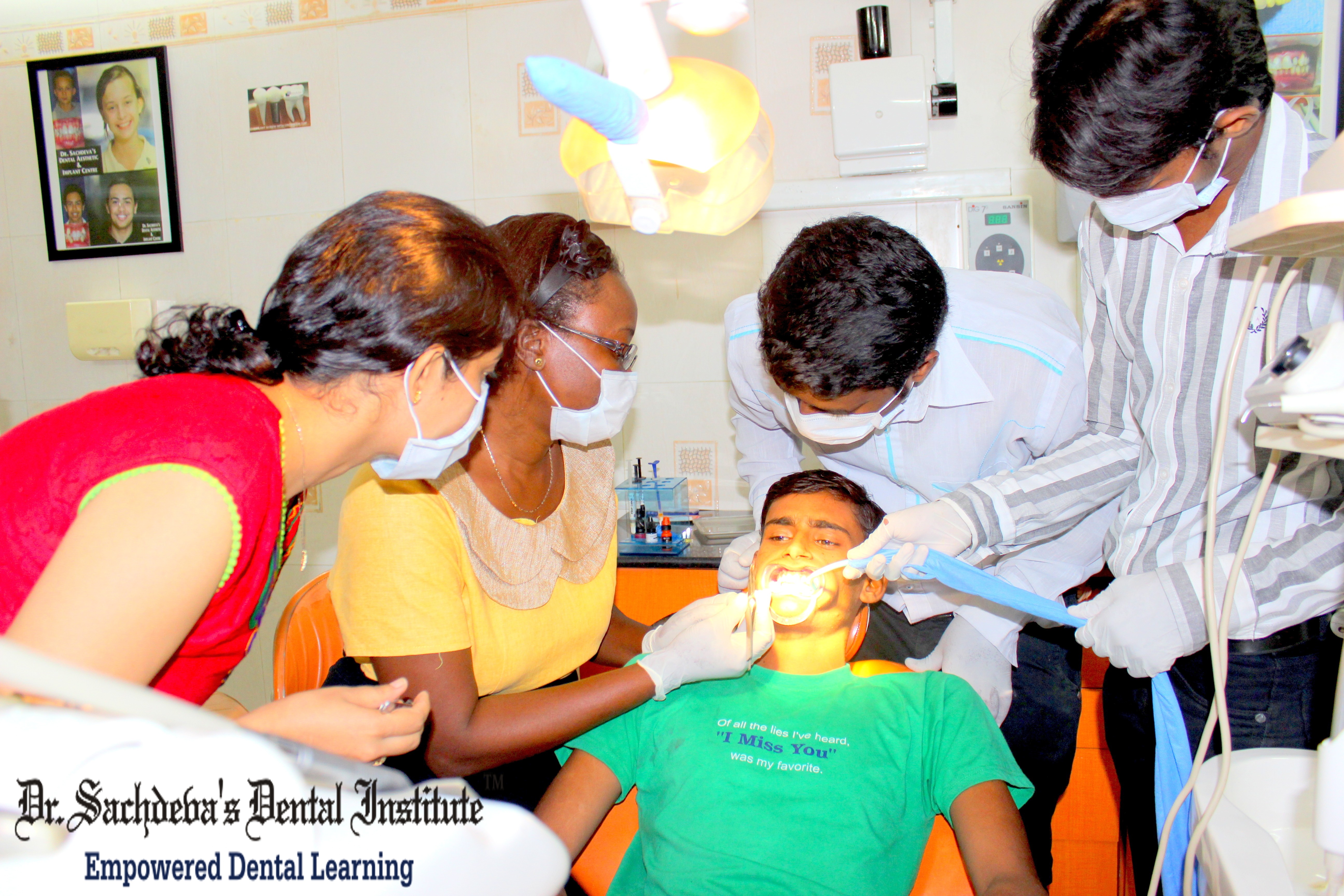 See More Images