Dr.Sachdeva's Dental Institute
Introduces "MicroEndodonzia" Clinical training on Microscopes in Endodontics Where biology and technology merge "Vision beyond Imagination"
The introduction of micro endodontic instruments & microsurgery into dentistry has lead to whole new world of endodontic previously unknown for the clinicians as necessary means to treat difficult cases.
Objectives –
This course is designed for the dentist who wants to perform his or her endodontic treatments with a high probability of success without undue complication. The technical aspects are covered by hands-on and live demonstrations.
A variety of instruments and techniques are discussed and demonstrated. The overall aim of the course is to assess the participant to understand about incorporation of the surgical operating microscope and microendodontic instruments into clinical practice to overcome the shortcomings of past conventional techniques in order to evolve as the discipline evolves.
Endodontics often present challenge to the clinician possessing difficulty in isolation, access, negotiation of curved and narrow root canals, calcified canals, difficulty in obturation and managing anatomical variations.
Upon completion, every participant will be able to:
Enhance his/her knowledge of clinical concepts of  micro-Endodontics
Successfully treat difficult molar endodontic cases
Apply system-based approaches for treatment
Approach molar micro-endodontic treatment with more confidence and more predictable results
Covered topics:
Modern concepts of Molar Micro-Endodontic treatment with an opportunity to use Nickle -titanium technology, Microscope Enhanced Endodontics and Modern concepts of Root Canal Obturation.
Step by step hands -on based training including life clinical demonstration & orientation to the Microscope.
How to find calcified canals or missed canals with greater precision and confidence.
Learn the evidence and clinical criteria to choose between Endodontic Retreatment, Microsurgery or implant.
How to use the Surgical Operating Microscope in all forms of endodontic surgery.
Understand the current concepts and clinical techniques  in apicoectomies
How to retrieve separated instruments in the coronal 1/3rd of root canals.
Understand how to remove fibre or carbon posts metal posts from root canals safely and reliably.
How to remove fractured posts and posts cemented with resin cements.
Treat Perforations or procedural errors that happen during retreatment or access using the internal matrix technique
Learn the latest clinical approach in retrieving separated or broken instruments even in the apical one-thirds of root canals.
A live case scenario of Non-Surgical microendodontic treatment  is included in the session of the workshops for the participants to closely observe and overcome the challenges of a difficult procedure in order reach the ultimate goal of excellence in Endodontic treatment.
Hands-on & working on patients :
Orientation
Handling & positioning of Microscope.
 Focusing the Microscope & Using different Magnifications.
Working with Microscope on  Extracted Teeth & patients under supervision.
 Refinement of access cavity of maxillary Molar Root Canal for MB2 Location.
Perforation Repair with newer materials.
Course Schedule
Day 1 – Lecture Highlights
Orientation of Microscope in Endodontics.
 Introduction to Microscope.
Indications of use of microscope in endodontics.
Parts of Microscope.
Magnification Step Vs Zoom Lenses – focal Length.
Parfocaling and IPD adjustments.
Beam splitter and its use for Documentation.
Access; Basics of the operating microscope endodontics
Rubber dam application & tricks.
Live patient demonstration with aseptic techniques
Treatment planning, instruments and techniques
Working length determination; Principles of Nickel Titanium Instrumentation
Hands-on for sequence of instrumentation & Live patient demonstration.
Day 2
Principles, instruments and techniques for root canal obturation
Treatment of post endodontic disease.
Restoration of the Endodontically Treated Tooth— Lecture and Hands-on.
Retreatment versus Endodontic Surgery.
Hands-on and live patient demonstration for endodontic surgery.
Five clinical cases  will be given to each participant under Microendodontics .
How long is the course?
The course will be conducted over two full days .
How many students are there in a batch?
There will only be two students in a batch. This will ensure that each student gets personal attention.
What are the materials I need to get for the course?
All materials for the course will be provided by the center.
How is this course different from the microscope courses?
1) There are only two participants in a course. This will ensure that each participant gets complete attention.
2) The entire course is done in a clinical setting with a mannequin, natural teeth & 5 patients will be provided to each participant .
3) Each participant will have a separate microscope and dental chair.
4) Every participant will continue to get online mentoring after the completion of the course
When is the course held?
The course is held every month in delhi. Participants can register in advance for whichever month they prefer. Since the number of participants per batch is limited to only two, it is advisable to book your slot well in advance.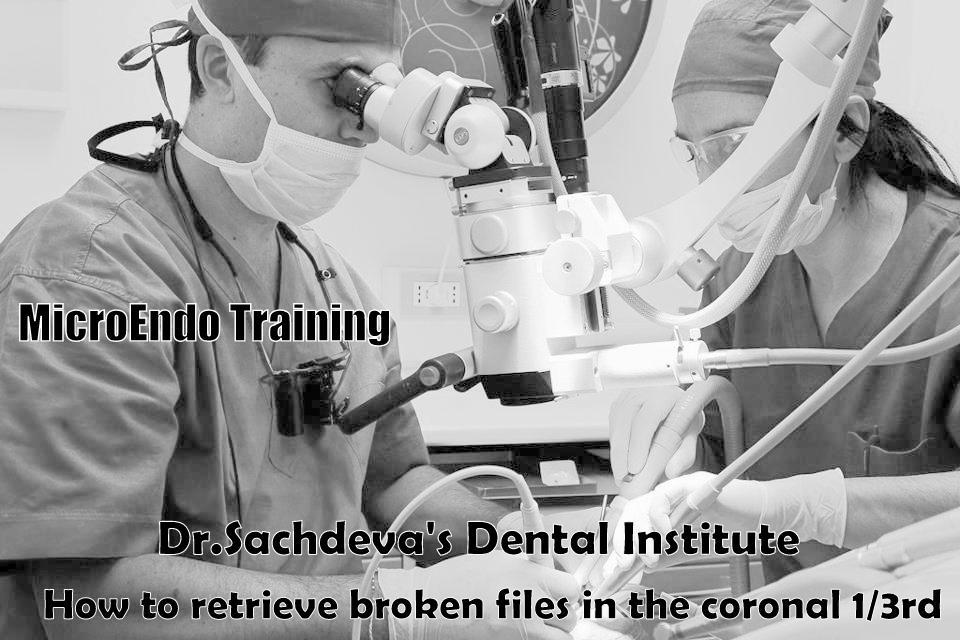 See More Images