8th DAY COMPREHENSIVE FIXED PROSTHODONTICS WORKSHOP
(INCLUDING POST AND CORE, CROWNS AND BRIDGES, INLAYS AND ONLAYS, VENEERS)
INTRODUCTION
DR SACHDEVA DENTAL INSTITUTE AND IMPLANT CENTER introduces 8th day comprehensive hands-on workshop on FIXED PROSTHODONTIC COURSE, which will give you experience with a new level of expertise in caring for your patients.
Key points
♦ Weekend Course: 2 days/week for one month – Total 8 Days.
♦ Participants will be provided with all instruments and typhodonts.
♦ Participants will be provided with five patients each.
♦ Study material will be provided by the institute.
♦ Every clinical step will be preceded by a lecture for that topic.
♦ For every step first hands on will be performed followed by patient work.
♦ Limited batch of five students.
COURSE CONTENT:
♦ Introduction to F.P.D
o History.
o Examination.
o Diagnosis.
o Treatment planning.
o Principles of occlusion
♦ Material Science
o Evolution of restorative material.
o Moving from metal-based to metal-free dentistry.
o Indirect Composites.
o Ceramics- types & material selection.
o Core materials & layering.
o The zirconia magic- Understanding the CAD/CAM fabrication.
o Demo by faculty for crown preparation.
CLINICAL PROTOCOLS IN CROWN & BRIDGE
• Lecture, Demo, Hands On (Models).
• Impression material – choosing the right one.
• Various techniques for making an impression.
• Soft tissue management- different techniques and materials.
• Evaluation of an impression.
• Preparation for anterior and posterior, bridge & all ceramic crowns.
• Color & aesthetics (shade selection).
• Post and Core.
• Introduction and exposure to various post systems, core buildup materials techniques.
• Working on patients for post and core and F. P. D.
• Reasons for failure, Fracture of porcelain, Troubleshooting, Case discussions.
• Cementing media, Silanization and Bonding of all ceramic restorations.
• Cementation steps for various types of ceramics.
• Occlusion adjustments.
• Luting material & techniques.
• Patient work: cementation of all ceramic crowns.
• Anterior esthetics and various esthetic trends in fixed prosthodontics.
• Laboratory protocols for successful fabrication.
• Brief about the lab procedures from master cast to pattern, coping to crown/bridge.
DAY WISE SCHEDULE
DAY 1
LECTURES:
1. Diagnosis and treatment planning
2. Principles of tooth preparation, finish lines, bur selection, biological width correction, crown lengthening etc.
3. Tooth preparation for all metal, metal ceramic and all ceramic crowns.
DEMONSTRATION:
1. Tooth preparation for all metal, metal ceramic and all ceramic.
DAY 2
LECTURES:
1. Soft tissue management
2. Impression procedures in FPD
3. Impression materials: advantages and disadvantages.
4. Provisional restorations
HANDS ON BY PARTICIPANTS:
1. Tooth preparation for an anterior crown and posterior bridge(parallelism etc.., common preparatory errors)
2. Impressions on models using putty wash technique with spacer.
3. Temporization on models prepared by candidates.
DAY 3
LECTURES:
1. Shade selection and science of color for metal ceramic and all ceramic restorations.
2. Discussion of errors on prepared models
3. Discussions.
PATIENTS HANDS ON:
1. Tooth preparation for a bridge.
2. Gingival retraction
3. Temporization
4. Impression making.
5. Shade selection
DAY 4
LECTURES:
1. Post and core discussion
2. Restoration of grossly decayed teeth.
3. Different types of post systems and core build up materials
DEMONSTRATIONS:
1. Preparation of post space
2. Post and core fabrication (prefabricated and customized)
3. Impression technique for custom made post
4. Fabrication of indirect pattern for post.
HANDS ON BY PARTICIPANTS
1. Pattern fabrication and impression procedures
2. Post and core on models
DAY 5
LECTURES:
1. Cementationwith materials and techniques
2. Cementation protocols for different all ceramic crowns.
3. Occlusal considerations in FPD.
4. Clinical case discussions on management of complex FPD cases
PATIENTS HANDS ON:
1. A case of post and core prepared to receive metal ceramic crown (prefabricated or custom made).
DAY 6:
LECTURES:
1. Principles of tooth preparation for inlays and onlay
2. Inlays and Onlays: indications and contraindications.
3. Materials and mechanics of inlays and onlays.
4. Trouble shooting and failures in FPD.
5. Discussion.
DEMONSTRATIONS
1. Inlay and onlay demonstration.
PATIENTS HANDS ON:
1. Cementation of crowns and bridges.
2. Occlusal adjustments.
DAY 7:
LECTURE:
1. Case selection & treatment planning
2. Tooth preparation for different types of veneers
3. Science of ceramics
4. Basics about shade selection
5. Design modifications
6. Temporization
7. Cementation techniques
DAY 8
HANDS-ON
1. Tooth preparation for veneers
2. Impression techniques
3. Temporization
4. Cementation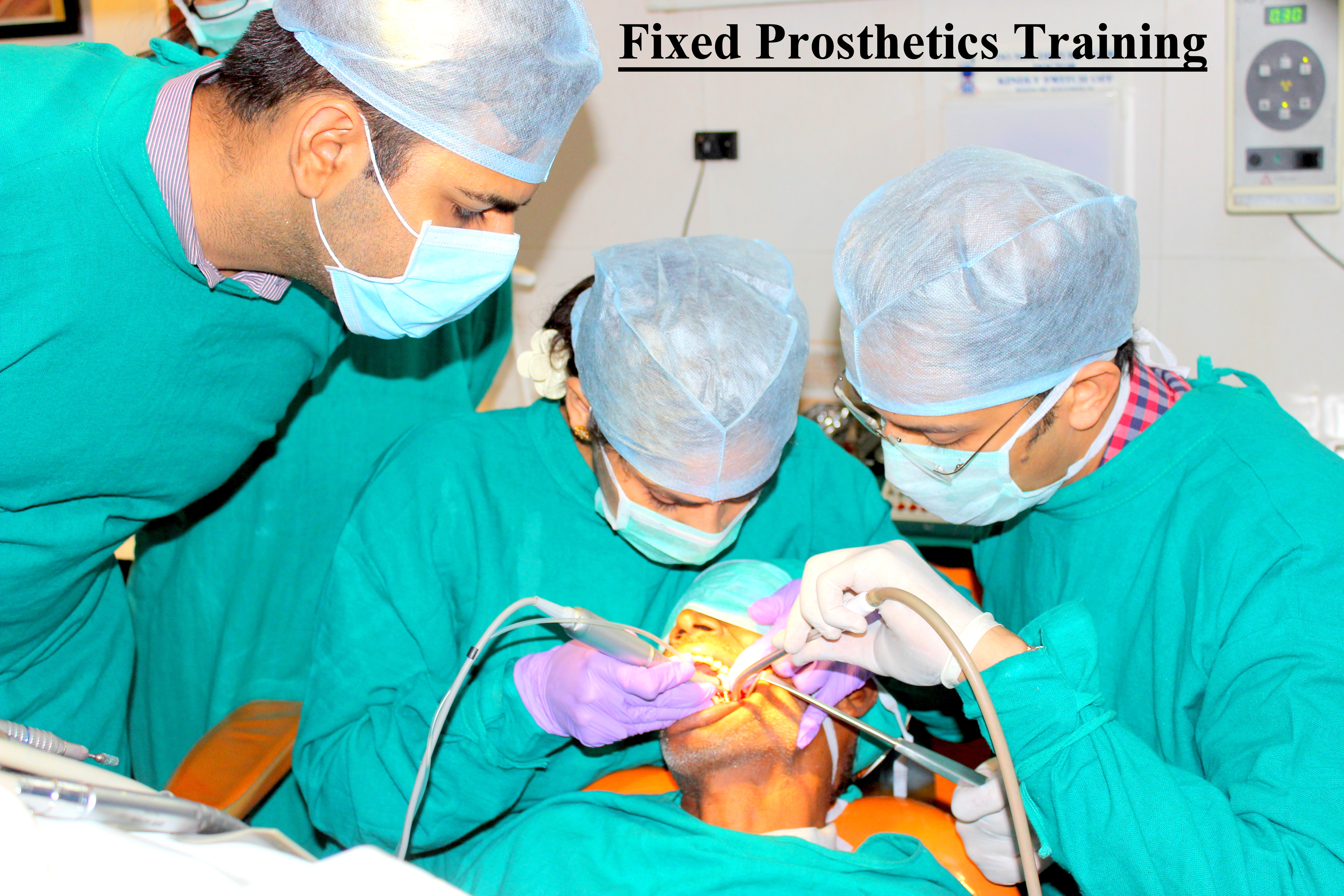 See More Images